How
to make
your brand
stronger
Sometimes the more you analyze your brand,
the harder it is to understand how to make it stronger.
A good brand analysis will yield a host of brand attributes, distilled from focus groups and surveys, product features and corporate values, all describing in the finest detail what the brand is. You'll end up looking at a great big matrix of adjectives, wondering what on earth you're actually supposed to do with it.

We suggest a simpler approach: instead of analysing what the brand is, focus on what it does.
A brand is a strategy to win purchase decisions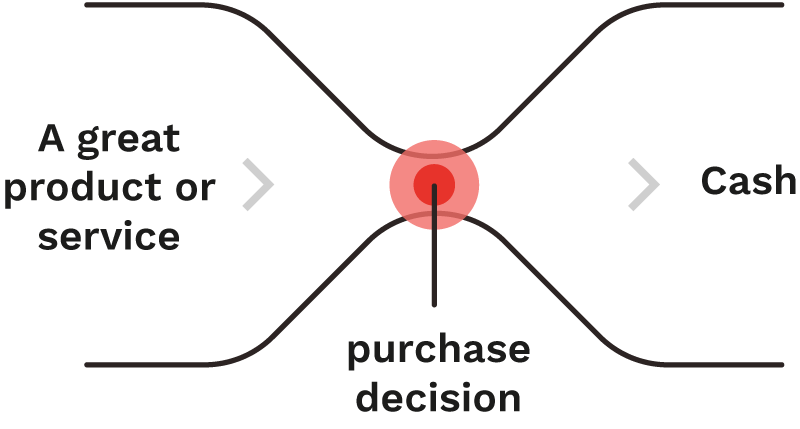 Most products and services are born into environments where there's already fierce competition for the same clients. In such circumstances, your brand should offer above all a clear and simple blueprint to help your company win customers and keep them.

To be sound, such a strategy should rest more on a deep understanding of buyers' motivations than an analysis of brand attributes.

This simple change of perspective will articulate the brand into five different fronts, according to the key triggers of any purchase decision: recognition, rational, emotional and social aspects and eventually elements that can structure the personal narrative of the prospective buyer.
At Brandscape your brand will be structured according to the motives that drive people's purchase decisions
Your matrix of attributes will be condensed into just five lines of action, ready to produce tangible results without delay. And each of those fronts can be advanced independently, as time and means allow, without compromising the overall integrity of the brand.
To test your brand for strength,
press here
Every brand, if not properly serviced, will eventually slip out of date, lose its edge and start leaking customers to more vigorous brands and trendy newcomers. When that happens, it may not be the time for more analyses, but for rather more straightforward action.
Bring your brand in for maintenance